Alterations to Wedding Dresses
We have two in-house seamstresses who specialise in bridal and formalwear; Cath's Alterations 0425 248 093 (in store Wednesday – Friday by appointment only) and Alison of Corby Studio 0420 817 391 (Saturday by appointment only).

We will offer advice and guidance on alterations to your wedding dress and then directly refer you to a professional to carry out the work.

These professional seamstresses (which we highly recommend) have over 20 years industry experience in made to measure and custom designed bridal gowns, bridesmaid dresses and alterations – so you're in very safe hands!
These highly trained professionals work hard to achieve the best desired fit for your body shape and gown style.
We recommend contacting an alterations specialist once you have purchased your dress to ensure there is enough time to work through any modifications needed to your dress prior to your wedding date., usually 6 weeks prior.
Below is a pricing guide for stock-standard wedding dress alterations. Please note for any drastic modifications to your dress we recommend you consult a seamstress directly.
Estimated quotation for standard bridal gown alterations will average between $650 – $950. This will depend on construction of gown, fabric type, lace applique, and beading embellishments. All prices include GST.
Standard alterations include: take in/ let out either from CB or side seams (altering from x1 area only), bust darts, bust cups, adjust straps / shoulders, hem, bustle.
Please note that all dresses are purchased as-is off the rack, which means we don't cover any alteration costs.
| | |
| --- | --- |
| HEMS | Prices between |
| Standard – chiffon / silk / satin (x2 layers) | $90 – $180 |
| Ballgown (plain tulle – Crinoline & lace / ruffles) | $250 – $350 |
| Lace hem | $300+ (repositioning current lace on hem) |
| TAKE IN | |
| Plain fabric (including plain lace) | $150 – $250 |
| Lace applique | $200 – $300 |
| Lace and beading | $250 – $350 |
| Create bust darts | $60 – $150 (depends on fabrication & neckline) |
| Take in bodice & bust dart combination | $45 + cost of take in (depends on fabrication & neckline) |
| LET OUT | |
| Plain fabric (including plain lace that is seamed) | $100 – $175+ |
| Lace applique (extra lace & labour additional) | $150 – $250+ |
| Lace and beading (extra lace, beading & labour additional) | $200 – $350+ |
* Prices are indicative only.
Sizing and Fit
We highly recommend measuring yourself with dressmaker's measuring tape prior to purchasing. If you are still uncertain about the sizing or fit of an item please contact us directly and we will happily provide you with additional photos or information.
VINTAGE SIZING – Please note that vintage garments are a significantly different fit than clothing made today. Modern clothing is generally cut larger to cater to a wider range of women and sizing, while vintage clothing is cut much more tailored and closer to the figure. Therefore extra care is needed when wearing vintage clothing given the nature of the aged fabric and more tailored construction of the garment. Alterations to vintage garments can be made to achieve a more modern look (i.e. shape, silhouette, appearance) while not distracting from the original vintage quality and style.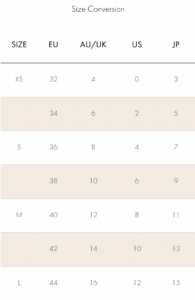 All dresses can be ordered in split sizes to minimize additional alterations.
Available lengths: Standard, Petite, Tall.
Wedding Gown Fabrics
These are just some of the popular types of luxurious fabrics used in the construction of wedding dresses.
Charmeuse: lightweight and semi-lustroous, is satin-like and soft touch.
Chiffon: has a soft finish and is very delicate, sheer and transparent. It is often layered due to this transparency.
Crepe: has a crinkle-like surface and is soft, thin and lightweight to touch.
Duchesse Satin: a lightweight hybrid of silk or polyester and rayon woven into a satin finish.
Dupion: fabric has a slight sheen and a finish similar to shantung, but with thicker, coarser fibres.
Georgette: has a light crepe surface, fabric is lightweight and sheer.
Organza: crisp and sheer like chiffon, with a stiffer texture which is more flowing than tulle.
Satin: fabric is heavy and smooth with a sheen on one side, very popular choice in wedding dresses.
Shantung: fabric is similar to a raw silk, and characterised by its rough texture.
Taffeta: crisp and smooth fabric with a slight rib.
Tulle: netting which can be made from silk, nylon or rayon. Popular for skirts and veils (like a ballerina tutu!).
Dry Cleaning your Wedding Gown
We highly recommend getting your wedding gown professionally cleaned as soon as possible after your wedding to ensure it's preserved properly. Doing this will prevent any stains or marks setting into the fabric and becoming stubborn or permanent. You'd be surprised how well expert cleaning can work to make your dress looking brand-spanking new! Dirt, food and lipstick stains for example can be successfully removed with proper professional cleaning. Be aware however that even stains you can't see like perspiration can immediately begin to damage delicate fabrics such as silk and cause discolouration and deterioration of your dress. These types of stains can also resurface in fabric even after dry cleaning, so something to be mindful of. We are happy to recommend some local dry cleaning experts if you are looking to have your dress cleaned, so please let us know!
Storing your Wedding Gown
If you decide to store your wedding gown it should be stored flat in a box after professional cleaning. Keeping it on the hanger will cause the material to stretch over time and affect the shape of your dress. Ideally, storing your gown in a box away from direct sunlight is the best way to preserve it and the fabric over a long period of time. Remove any plastic dress covers as they are designed for hanging dresses and not long time storage – they can also let in light and fade the fabric.
Alternatively, we strongly believe in giving your wedding dress another lease at life and recycling which is also kinder to the environment!
Silhouettes and Shapes
A-line: Classic and simple style fitted at the bodice, then flows out to the floor forming an 'A' shape.
Ball Gown: The most formal and traditional wedding dress silhouette, displaying a dramatically full skirt, offset by a fitted bodice.
Mermaid or Fishtail: Great style for flaunting feminine curves, fits tightly to the body from the bodice to the knee before flaring out to the hem.
Sheath or Column: A long, narrow, slim-fitting silhouette wit straight lines and fits closely to the body.
Trumpet: Close-fitting bodice with a gradually flared skirt that skims the lines of the body, through the hips.
Empire: Defined by its waistline which is positioned directly beneath the bust, where it meets the skirt.